Sage 50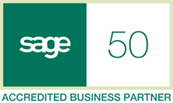 Sage 50 is a powerful accounting solution designed to meet the needs of medium and growing Irish businesses. It is designed to streamline all your accounting routines, reduce data entry and save you time. The program integrates seamlessly with other Sage products, as well as with Microsoft Office software, and is already relied upon by thousands of Irish companies.
Key Features Include:

• Caters for all your accounting needs, from VAT returns to credit control
• Provides instant management information and accurate reports
• Includes stock control, cost centers, departments and budget capabilities
• Provides comprehensive data storage and full security
• Allows more than one person to work on the system at once
• Has process maps and dashboards for improved ease of use
Sage 50 Accounts
Sage 50 Accounts has the tools you need to balance your books and manage your VAT. Through functionality such as credit control for improved cash flow management and departmental profit & loss and balance sheets it puts key business information at your fingertips to drive your business forward. Because Sage 50 Accounts is easy to use, you can stay in control of your finances and spend more time running your business.
Sage 50 Accounts Plus
As well as helping you to balance your books, improve cash flow and control your VAT, Sage 50 Accounts Plus has all the tools you need to keep track of materials and manage stock to ensure optimum levels. Accounts Plus also helps you to manage projects by controlling budgets and costs for internal or customer jobs.
Sage 50 Accounts Professional
In addition to the features in Accounts and Accounts Plus, Sage 50 Accounts Professional can help you make smooth work of sales and purchase order processing. In addition you can manage stock allocations and dispatched, invoiced and returned goods. Sage 50 Accounts Professional automates the process of reconciling invoices against purchase orders and offers full control of foreign currency transactions.